the Chiat/Day advertising agency in New York designed by Gaetano Pesce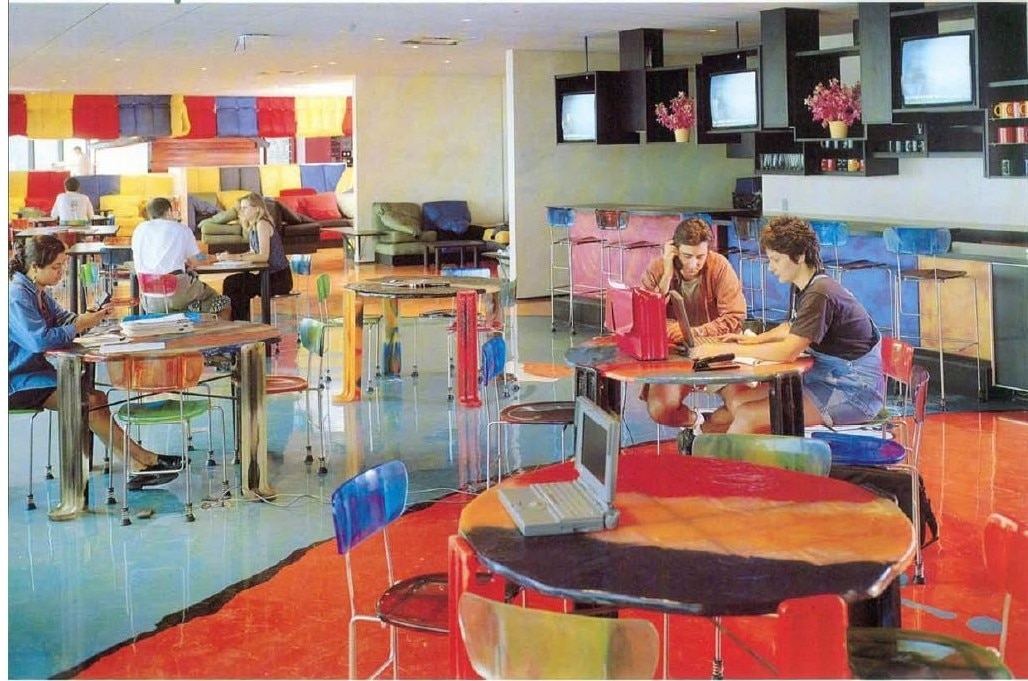 The idea is as follows: instead of being territorial, the office becomes virtual. In the traditionally organized office, work is conceived as purchased time and is therefore supervised by the distribution of things in specially constructed and individually assigned spaces. Employees identify with these spaces and are hierarchically structured there. While this system is replaced here by a more individualistic and responsible approach to work. No longer obliged to share a workspace and time, each employee can choose his way of accomplishing a task, thanks to the mobility offered by technological innovation.
With the removal of the physical clutter of papers to collect, keep and classify, electrical or telephone wiring, fixed workstation cluttered with immovable objects, we realize that there are very few essentials left: a chair, a work surface, a mobile phone and a (laptop) computer to communicate with the rest of the world. It may sound like the usual bogus futuristic scenario, which is hard to believe because it is portrayed as too far removed from everyday reality. In Pesce's design, however, this resulted in a fluid and articulated space, endowed with those eminently "urban" qualities that characterize routes and waiting areas, perspective views and meeting points, with a certainty that depends more on everyday use than on the application of abstract concepts.