In Focus: Orlando's Oldest Advertising Agency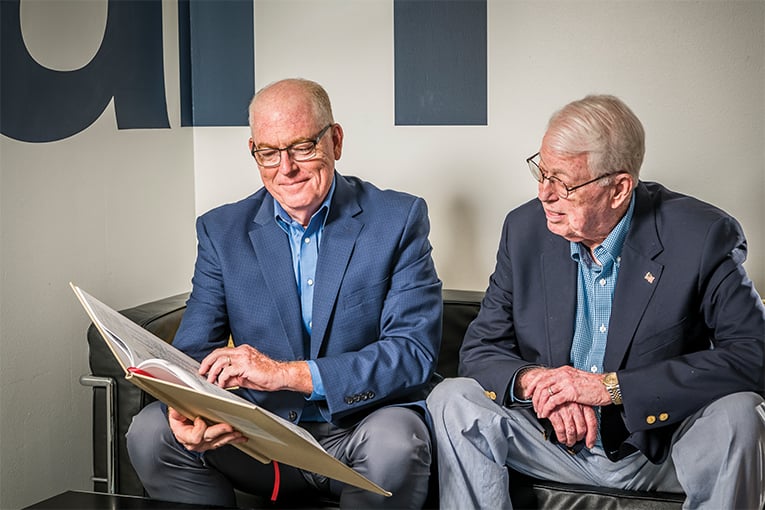 Pete Barr Jr. didn't always want to be an advertiser. As CEO and president of Orlando's oldest ad agency, this might come as a surprise.
"I would like to tell you that I was born with the desire to be an advertiser and at seven years old I bought my first suit and my first briefcase," laughs Barr. "But I was an ordinary kid."
Born and raised in the heart of downtown Orlando, Pete Jr. considers himself the rebel of the Barr family. He was outgoing, always did his best, but he found school difficult "because I wanted to do other things".
Pete was so rebellious that when it came time to choose college from a University of Florida family, Pete Jr. attended Florida State University. "Yeah, my mom, dad and brother were all Gators."
Whether it's a Gator or a Seminole, none of that matters much in 2022, as &Barr celebrates 65 years of success as Florida's oldest ad agency, with Pete Barr Jr. in the lead.
"I guess I'm the oldest person in the agency. Seems like it was just the other day when I was 27, and I didn't know what I was doing. It all happened so quickly, and here we are in our 65th year.
&Barr has come of age alongside Central Florida, amid recessions, pre and post-Disney influence, culture wars, tech revolutions, and even a pandemic, not just surviving but thriving.
Grow with Orlando
Pete Jr. grew up in the 1960s in Orlando. It was a time when you could smell the orange blossoms from anywhere in town if the wind was just blowing. A time when the only reason a tourist traveled to Florida was for the beaches, and going to Disney meant traveling to California.
"I grew up downtown, on Lake Cherokee. Orlando was a quiet, sleepy place back then. Pete attended Boone High School and played tuba in the marching band. "I was a rebel, and Mr. Casey, the headmaster of the band, he was probably the only teacher that would have control over me during high school."
Chuck Fry and Bob Hammond founded the agency which was later renamed &Barr in 1957. After graduating from the University of Florida, Pete Barr Sr. joined the company.
"Chuck Fry hired my dad before Bob, and after a short time the three got together. My father had this youthful energy. He was a pusher, and he still is today.
The Patriarch
Pete Barr Sr. still lives in the large downtown Orlando home where he raised his family with his wife, Nancy. "My mother and my father had a magical life. He is truly amazing. I am very close to my father. I am close to him in matters of business and I share a lot with him.
Priceless lessons passed down from father to son.
The handshake
Like all good dads, Pete Jr. learned to shake hands with his dad. "There's only one way to shake their hands. Don't hurt them, but look them in the eye and give them a firm handshake.
Personally written notes
"My dad was all about the handwritten notes. He had a podium in his office that was held flat, like one of the original standing desks. This is where he kept his stationery and his cards. He went to the table every day and wrote follow-ups and notes to people he called or met. He was diligent about it and he forced this on all of us, even though none of us were as good as him.
Discipline
"One of the most important lessons I learned from my father was his discipline. He has an incredible work ethic. He believes the best time to do something is now. My dad is a "do it now" kind of person. If he says, 'I want you to have this shovel.' He comes now, not later.
Courtesy
"The other day I tried to explain to my dad the idea of ​​not returning a phone call or being ghosted. I thought he was going to fall apart. He had never heard of 'such a thing.
Pete Jr. says Pete Sr. hasn't lost a step and is still as disciplined today as he was 50 years ago. Despite his propensity for rebellion, Pete Jr. sees himself very much in his father. "I have a lot of him in me, but I also have a lot of my mother in me. I have the best of both."
The successor to the throne
"What's so exciting about this 65th birthday is that I've been here 35 of those 65 years," says Pete Jr.
Even though he didn't spend his youth aspiring to be the next "McMann and Tate," when the time came for him to choose a college major, he went with the family business. An internship soon followed, and after graduating he returned to Orlando and began working at the Orlando Sentinel in the publicity department.
"I was a normal 22-year-old guy and I wanted to make more money. I wanted to leave my parents' house, I wanted to party with my buddies, and I wanted to meet a girl.
Pete Jr. met and married his lovely wife Cheryl, and they have been married for 36 years.
"Even though I was lucky and a privileged person, my dad always made my brother, and I work hard for everything we have."
When he finally left the Orlando Sentinel for the family business, it wasn't natural at first. "The Sentinel was a fabulous training ground. I knew the business and I have worked with the agency all my life. I ran errands and was a gopher when I was a teenager. It took me a while to find my way when I arrived here.
Different styles of leadership are needed for different times, and &Barr was fortunate to have someone like Pete Sr. as its founder. &Barr had the same luck as Pete Jr. leads the company into the future.
"When I joined the agency, we had about twenty employees with all the old techniques. At the time, clients wanted to meet older, more experienced people. It was a bit of a curse if you looked and sounded young. Customers today want to meet younger people. The industry is driven by young people.
What &Barr does well is that it combines young people with old-school professional training and expertise. "I felt like we had to keep reinventing, innovating. I made a few mistakes, but I achieved a lot along the way.
What's in a name?
During the recession, the agency searched for its future identity and Pete Jr. made a big decision.
"We were in transition and someone asked me, 'Have you ever thought about changing the name of the agency?' I didn't because I'm a pretty traditional person. I cherish meaningful things.
After careful consideration, they changed the name to &Barr.
"It was about going to the heart of what we are, that is to say the intimate partnership with our customers. This is where we got the &. The & is intended to symbolize partnership and shared goals.
To look forward
In a time of volatility, as businesses that were once considered institutions close their doors, &Barr is doing well. The key to this success is a strong team with visionary leadership.
"My dad came from a different time where leadership styles were slightly different. You know the term 'benevolent dictator.' It may sound negative, but the word benevolent is in front. the agency in his image. He was powerful and he was impressive.
How does Pete Jr. describe his leadership style?
"Even though I don't run the place like that, I dictate sometimes. You have to make the call, stand up and make decisions. However, I try to be a collaborative leader.
For the Barr family, &Barr is like another family member at the table. "This agency is our family. You go to a Thanksgiving dinner and talk about the business. It's way beyond an ad agency. It's a family.