Advertising campaigns with a royal touch, Marketing & Advertising News, ET BrandEquity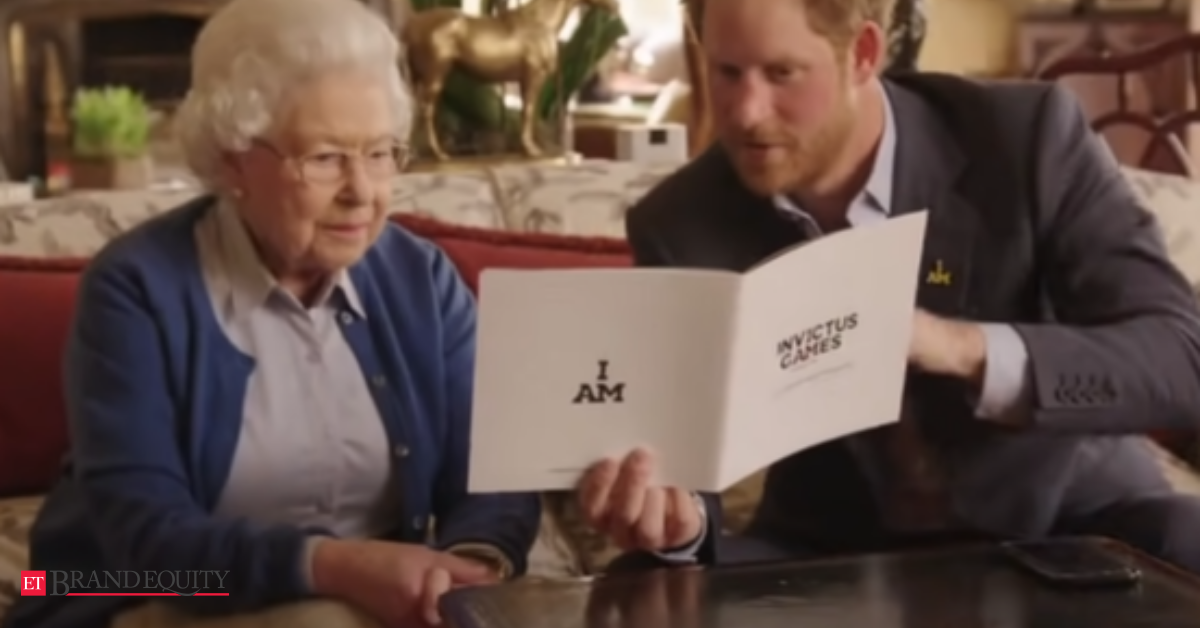 The popularity and love for Queen Elizabeth II was considerable. Naturally, the world of advertising and marketing obsessed him.
Many of his look-alikes have often been used in advertising campaigns. And there were a few rare mentions, including the London Olympics, which featured the Queen herself.
ETBrandEquity pays tribute to Queen Elizabeth II, who died at the ripe old age of 96.
Marmalade sandwich, Your Majesty?

For Platinum Jubilee celebrations, in honor of her 70-year reign, the Royal Family released an advertisement featuring the Queen herself with Paddington Bear. In the ad, the fictional bear joined Queen Elizabeth II for tea at Buckingham Palace.
The odd reunion showed Paddington Bear taking huge sips of tea, forgetting all about royal protocols. The awkwardness increases as he smashes a piece of cake that was on the table, while trying to save a teapot from falling. The situation is somewhat saved as the two show their love for marmalade sandwiches and their habit of keeping one ready for emergencies.
The courteous bear offers the queen a marmalade sandwich that was hidden under her red-brimmed hat while setting down a teapot.
He informs her, "I usually keep one for emergencies."
She, in turn, pulls one out of her purse.
"Me too," she said. "I keep mine here."
"For later," she adds, noticing Paddington Bear's shock. The film ends with videos of the Platinum Jubilee celebration.
James Bond and the Queen | London 2012 Olympic Games
The Queen also appeared in a commercial with James Bond, played by Daniel Craig. Released during the opening ceremony of the 2012 London Olympics, the film shows 007 reaching Buckingham Palace to escort the Queen to Olympic Park in east London. Bond takes the Queen to the Olympic Stadium as all who see them wave in celebration, including a statue of Winston Churchill.
The Queen is then seen making her official entrance into the Olympic Stadium after jumping from the helicopter by parachute.
The announcement was kept secret from all members of the Royal Family except Prince Philip.
In his book 'Queen Of Our Times: The Life Of Elizabeth II', Robert Hardman shares that the Queen contacted the makers of the Bond film she would call 'Mr Bond' rather than 'James', to keep it authentic.
Boom? Really please | Invictus Games 2016
This ad featuring Her Majesty, Michelle Obama, Barack Obama and her grandson, Prince Harry, promotes the 2016 Invictus Games for veterans with disabilities.
The ad shows Harry showing a brochure of games to the Queen while seated on a sofa. In the middle of their conversation, Harry's phone rings and he listens to the chief.
The message turns out to be a message from the Obamas. In the message, the Obamas appear, arms crossed, with two servicemen and a servicewoman behind them.
Michelle begins by saying, "Hey Prince Harry, remember when you told us to bring it to the Invictus Games."
"Be careful what you wish for," added the American president.
The commercials end with the president doing his part, where one of the servicemen makes a mock gesture saying "Boom".
Looking at this, the queen smiled and said, "Boom? Really, please.
Mother's Day for the Queen | The body store
On Mother's Day, Prince William gives a peek inside Buckingham Palace, as Prince Charles tries to cook a royal Mother's Day breakfast for 'The Queen'.
Along the way, Camilla and the royal corgis have mercilessly helped Prince Harry find a gift fit for a 'queen', even if the breakfast doesn't meet his high standards.
From Prince Harry arriving on camera in Union Jack trousers to a panicked Prince Charles picking roses from the mud, the royal family's antics show what a royal "Mother's Sunday" could look like.
Finally, The Body Shop film features Charles presenting his royal mum with a rose-scented gift box from the shop instead with the words: "Happy Mother's Day".
The Queen has not only spread her royal magic on video ads, but also on a plethora of print ads. Let's take a look at some…
Snickers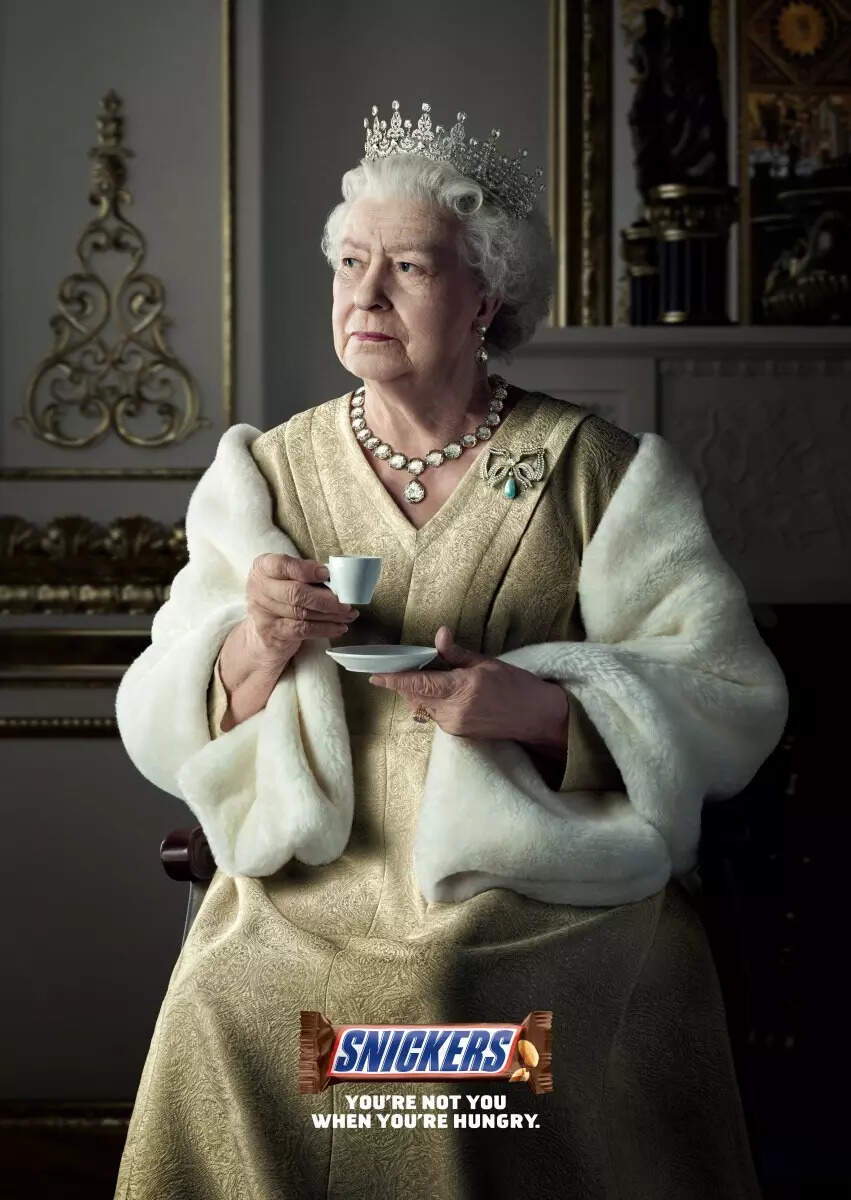 CNN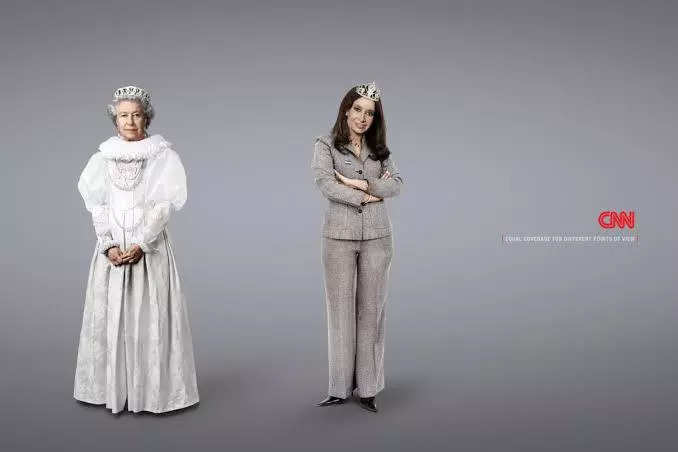 Subway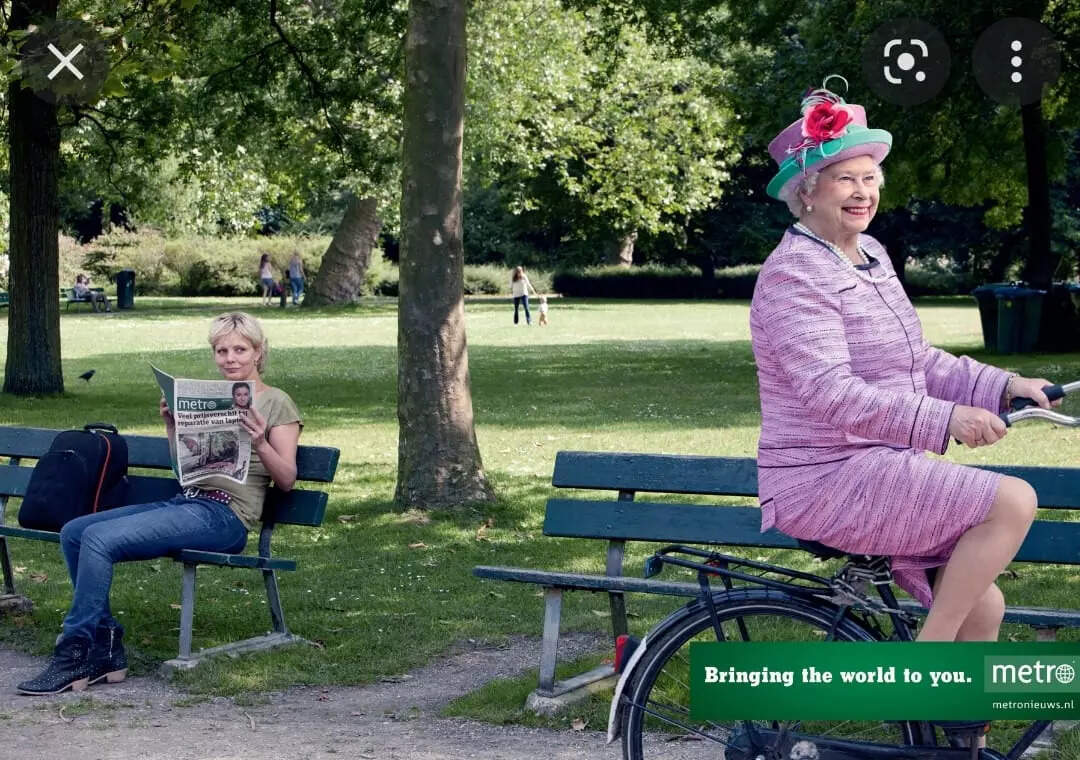 A look at the life and times of Queen Elizabeth
April 21, 1926 – Elizabeth was born at 2:40 a.m. at 17 Bruton Street, London, and baptized on May 29 of the same year in the private chapel of Buckingham Palace.
Dec. 11, 1936 – She became heiress, aged 10, when her uncle Edward VIII abdicated and her father became King George VI.
Nov. 20, 1947 – She marries Navy Lieutenant Philip Mountbatten, a Greek prince, at Westminster Abbey in London. They had four children: Prince Charles (born in 1948), Princess Anne (1950), Prince Andrew (1960) and Prince Edward (1964).
February 1952 – Princess Elizabeth and her husband Prince Philip embark on a tour of Africa and Asia in place of her ailing father, King George VI. News of the king's death reaches her in Kenya on February 6, meaning she is the first ruler in over 200 years to take the throne overseas.
June 2, 1953 – Queen Elizabeth is crowned at Westminster Abbey in the first televised coronation service.
Nov. 24, 1953 – The Queen's first Commonwealth tour begins over a distance of 43,618 miles.
1970 – During a visit to New Zealand, the Queen introduces the "walkabout", a dating tactic for royal visits.
1977 – The Queen celebrates her Silver Jubilee – 25 years as monarch – with a tour of Commonwealth countries and lavish celebrations in Britain.
1981 – Prince Charles marries Lady Diana Spencer in a glittering ceremony.
1982 – Charles and Diana's first child, Prince William, is born on June 21. Prince Harry was born two years later.
1986 – Prince Andrew marries fiery publishing executive Sarah Ferguson, known as 'Fergie'. The couple become Duke and Duchess of York.
1991 – The Queen visits the United States and becomes the first monarch to address Congress.
1992 – Her 40th year on the throne, which she calls her "annus horribilis" (horrible year), is marred by marital upheaval and public dissent.
Andrew and Sarah separate. Anne divorces Mark Phillips.
In November, Windsor Castle was badly damaged by fire. The queen agrees to pay the income tax.
In December, Charles and Diana announce their separation.
1995 – In March, the Queen delivers the first speech by a British monarch to a South African parliament since 1947.
In December, Buckingham Palace confirms that the Queen has written to Charles and Diana urging them to divorce.
1996 – In August, Charles and Diana divorce.
1997 – On August 31, Diana and her millionaire companion Dodi al-Fayed are killed in a car accident while being chased through Paris by photographers on motorbikes. The Queen and the Royal Family are being criticized for their reserved response.
In November, large crowds greet the Queen and Philip as they celebrate their golden wedding anniversary. In an uncharacteristically candid speech, the Queen acknowledges that monarchies survive only on public support.
Feb. 9, 2002 – The Queen's sister Princess Margaret dies aged 71 after a life of glamor and heartbreak.
March 30 – Queen Elizabeth, the Queen Mother, dies at Windsor Castle aged 101.
June 1-4 – Four days of national celebrations mark the Queen's Golden Jubilee.
2005 – His son and heir, Prince Charles, marries Camilla Parker Bowles in a civil ceremony in Windsor.
Apr 29, 2011 – The Queen attends the wedding of her grandson Prince William and Kate Middleton.
May – The Queen pays a four-day state visit to Ireland, the first by a British monarch since Ireland gained independence from London in 1921.
2012 – The Diamond Jubilee marking his 60th anniversary on the throne sees four days of celebrations in June as well as a national tour. A million people gather for a show on the Thames and millions more attend street parties.
2013 – Prince William's wife Kate gives birth to her son, Prince George. Their second child, Princess Charlotte was born in 2015 and their younger brother Prince Louis was born in 2018.
From June 23 to 26, 2014, the Queen begins her last foreign state visit to Germany.
– On September 9, around 5:30 p.m. UK time, Elizabeth becomes the country's longest-reigning monarch, surpassing her great-great-grandmother, Queen Victoria.
April 21, 2016 – Elizabeth celebrates her 90th birthday, the first British monarch to achieve such a milestone.
August 2, 2017 – Husband Philip is stepping down from public life after 65 years of supporting his wife.
November 20 – Elizabeth and Philip celebrate their 70th wedding anniversary with a private party at Windsor Castle.
2018 – The Queen's grandson Prince Harry marries Meghan Markle, a divorced American actress from Los Angeles, in a star-studded wedding at Windsor Castle.
October 2019 – A family feud between William and Harry goes public, with the young prince confirming rumors of a split.
November 15 – Prince Andrew gives a disastrous BBC TV interview in a bid to draw a line under a sex scandal. Days later, he was forced to step down from royal duties over his ties to disgraced US financier Jeffrey Epstein, who was jailed in 2008 for child sex crimes.
January 2020 – Harry and Meghan announce that they will no longer be working members of the Royal Family. They move to Los Angeles in March.
April 5 – The Queen makes just the fifth TV special of her reign to rally the nation amid the COVID-19 outbreak.
April 9, 2021 – Prince Philip, the Queen's husband of 73 years, dies peacefully aged 99 at Windsor Castle.
October 20 – The Queen spends a night in hospital for the first time in years for what Buckingham Palace called "preliminary enquiries".
November 30 – Barbados becomes a republic, meaning the Queen is now the head of state of only 15 kingdoms.
Jan. 13, 2022 – Buckingham Palace says Prince Andrew has been stripped of his military ties and royal patronages and will no longer be known as 'His Royal Highness' as he defends a US lawsuit brought by Virginia Giuffre who said the royal sexually assaulted her when she was a teenager.
February 6 – The Queen celebrates 70 years on the throne, taking the opportunity to give her blessing to Charles's second wife, Camilla, who is styled queen consort when he becomes king.
February 15 – Prince Andrew pays an undisclosed sum to settle the US lawsuit, but does not admit any wrongdoing.
February 20 – The Queen tests positive for COVID-19 and is said to be suffering from mild cold symptoms. She will soon resume her official duties.